Get 25% ANY Tree Service. Satisfaction Guaranteed.  Call TODAY for a FREE Tree Care Quote.
Tree Care in Tulsa County
Family Owned Tree Service With Over 25 Years
Experienced Crew Is Licensed, Bonded and Insured
Exceptional Service to All Residential and Commercial Clients
FOR 24/7 EMERGENCY SERVICE. CALL US IMMEDIATELY.
Certified Tulsa Tree Service Experts
C & F Tree and Lawn Care Service is a family-owned tree service with over 25-years of experience caring for the natural landscape of communities in Tulsa & Tulsa County. Our goal is to provide exceptional tree service to all residential and commercial clients looking to maintain or improve the natural surroundings of their homes and businesses.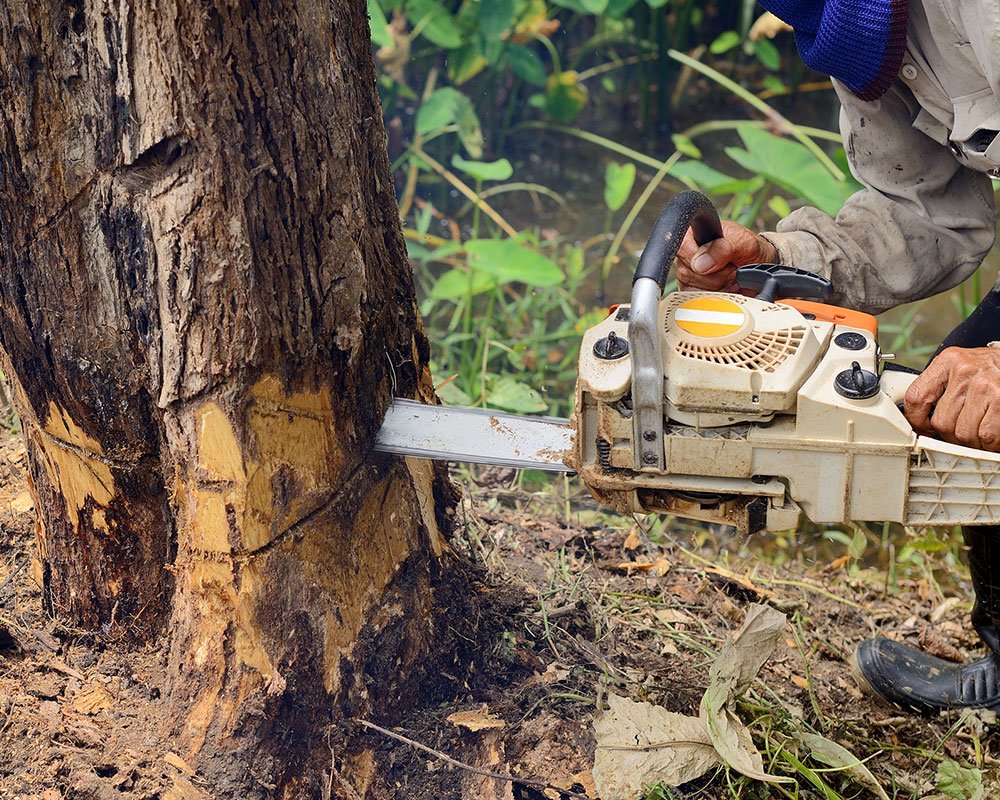 Real Reviews From Real Customers
Reliable and fast on time
C & F Tree and Lawn Care Service crew made my family happy. The service was prompt and the job was completed faster than I imagined.
Paul T.
– Tulsa, OK
Great Service
Excellent and professional people. They were a pleasure to have around. Ivan was always keeping me updated as to their progress.
Joyce R.
– Tulsa, OK
Very Professional
They had the tree removed the same day the tree fell. They did such a good job, we hired them to remove other dead trees.
Michelle W.
– Bartlesville, OK
Tree Service Tulsa specializes in tree service of all types of trees. Call Us Today For Our 25% Off Special.
Safest Tree Removal Methods
We always use the SAFEST tree removal methods for your property's safety, to ensure efficiency, and to promote safety! We strive to save every tree we can, but sometimes tree removal is necessary.
Expert Tree Service
We are a local family owned and operated tree service and tree care company in Bartlesville, OK. We give you the promise of our hard work, dedication, and decades of expert experience.
Happiness Guaranteed
We provide professional and affordable tree care for our clients. We'd love the opportunity to work with you and show why our exceptional service sets us apart from the rest.
Tree Care Tulsa Tree Service
If your tree has aggressive roots and is causing damage to your concrete floor, tree removal can help you avoid expensive repairs. Keeping dead trees on the landscape is very detrimental to the appearance of properties – removing dead and dying trees creates space for new, healthy trees. 
We make the riskiest tree removal procedures safe for both lawns and surrounding utilities. Our tree removal team has years of experience and modern tree removal tools. Whether your goal is to remove a tall, hardwood tree standing between buildings or you would like to bring down a tree with significant stability problems, our team can help you out. The go-to tree removal company in Tulsa, OK, we charge affordable prices for all tree removals.
Why Work with Professionals When Removing a Tree?
1. Safety for Your Home 
A lot of variables often affect the tree removal process – changes in wind direction, trunk leans, etc. can make it extremely hard for you to control the tree's falling direction. If you are removing a tree next to your home, there is a chance that the tree may land on utilities – the resulting damages could cost you thousands to fix. 
Professional tree service providers use their experience to determine the risks surrounding a tree removal procedure. Using their modern tools, the professionals eliminate these risks and bring the tree down safely without harming your home. 
2. You Avoid Injuries 
If a heavy tree falls on you during DIY tree removal, you may end up with broken hands, legs, and in worse cases, a broken spine. Trying to handle tree removals without enough experience puts you at the risk of losing your life. 
Hiring a professional tree removal team helps you avoid being around the tree. This helps you avoid spending time in the hospital and paying expensive treatment costs. 
3. You Benefit from Stump Removal 
After removing a tree, the next step is to remove the stump. With time, tree stumps turn into hazards, especially after they become covered by overgrowth. If you are handling tree removal alone with simple tools, you may spend days trying to get the tree stump out. 
Tree removal experts, on the other hand, bring advanced tools to your home. Using these tools, the professionals can grind your stump or remove it completely in one or two hours. 
4. Professionals Help with Cleanup 
Tree removals tend to be messy. They put tree logs, branches, sawdust, and other types of waste on your landscape. 
However, after removing a tree, professionals will collect all the waste generated by the entire procedure. If you would like to keep the tree trunk, professionals can convert it into a more usable form – for example – through wood splitting, professionals can turn the trunk into firewood. 
5. You Can Save Your Trees 
Diseases often make tree removals necessary – this is often the case when a tree looks like it's untreatable. However, it is very common for homeowners to mistake treatable trees for trees that cannot heal. 
Working with tree removal experts allows you to take advantage of a professional arborist. Using their experience and formal training, arborists can differentiate treatable trees from goners. The arborist will also recommend the best treatment options for your tree.
When Should You Invest in Removing a Tree?
Tree removals are made necessary by the following circumstances:
When a tree is standing in the way of property development.

When trees die 

When a tree keeps causing damage to your property. 

If a tree has an untreatable health problem. 

If a tree is outgrowing its allocated space. 

If you have numerous trees occupying a small space. 

If you would like to get rid of a non-native tree and replace it with a tree that is well adapted to the weather conditions in Tulsa. 

When a tree keeps dropping leaves and branches, making your landscape messy. 

When you wish to rearrange your landscape.